Our Wedding Map
Wedding Map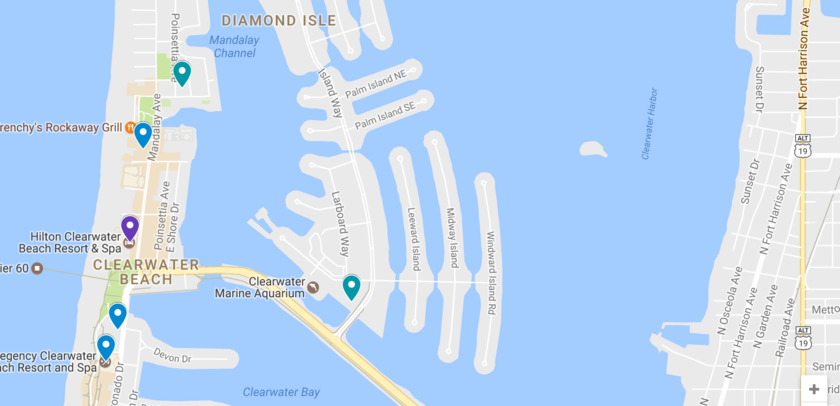 Visit this link to view a map of the area with wedding event and hotel locations marked.
GREEN locators indicate wedding day event locations.
PURPLE locator indicates the Hilton hotel where we have reserved a room block.
BLUE locators indicate additional hotel options on Clearwater Beach.
Accommodations
Hilton Clearwater Beach Resort & Spa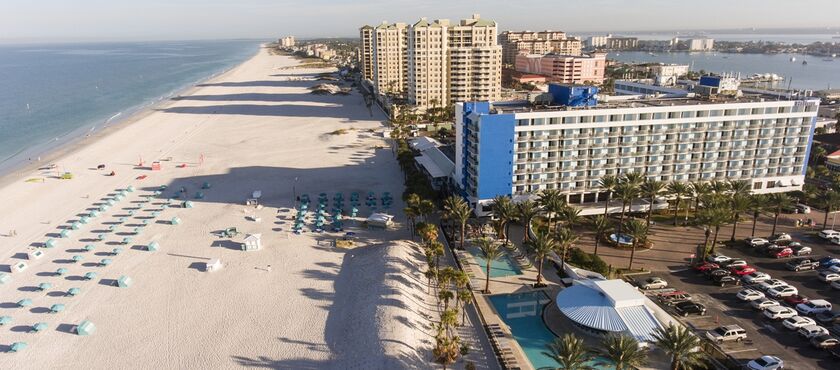 400 Mandalay Avenue, Clearwater Beach, FL 33767
727-461-3222
Book by March 14 to reserve your room at the Hilton.
A block of hotel rooms are available to reserve $229 + $20 resort fee per night. You can reserve a room using this link or by calling the Hilton at 727-461-3222 and mentioning the "Bigley / Hanley Wedding" block. Rooms are on a first come, first serve basis and will book up quickly!
Don't worry if you've missed out on this deal, there are plenty of places to stay on and off the beach. We encourage you take a look at the other accommodation options below.
Belloise Realty Vacation Rentals
727-449-2700
This is a vacation rental company, if you are interested in renting a home on Clearwater Beach for the week, or the weekend.
ADDITIONAL ACCOMMODATIONS IN CLEARWATER
While we think the Hilton is one of the best hotel options for our wedding weekend, we have included some other options for accommodations below our signature, in case the hotel block is full by the time you're ready or able to book. There are options on and off the beach, and you can feel free to use google, airbnb, homeaway, or other booking sites to search for more options.
ADDITIONAL HOTEL OPTIONS ON THE BEACH:
Hotel Cabana Clearwater
3-star

Sandpearl Resort
4-star

Holiday Inn Hotel & Suites Clearwater Beach
4-star

Pier House 60 Marina Hotel
3-star

Clearwater Beach Hotel
2-star

OPTIONS OFF THE BEACH (WILL NEED A RENTAL CAR):
Holiday Inn Express Dunedin
2-star
20–50 minute drive, depending on traffic

Hampton Inn Clearwater Central
2-star
20–60 minute drive, depending on traffic

AirBNB and HomeAway
Clearwater, Florida

Airbnb.com and Homeaway.com are home-share sites where you can book a condo, apartment, or studio room on or off the beach. We encourage you to explore these sites to find a place to stay.
Travel and Transportation
Tampa International Airport
4100 George J Bean Pkwy, Tampa, FL 33607

The easiest airport to get in and out of when traveling to the Tampa Bay/Clearwater area. Book an airpot shuttle to the beach, coordinate with other guests for rides, or rent a car and hop on 60, which will take you over the bay straight to Clearwater Beach!
St. Pete/Clearwater International Airport
14700 Terminal Blvd #221, Clearwater, FL 33762

An airport that is technically closer to Clearwater Beach with service from budget airlines, such as Allegiant.
Uber
This is a car service that is handled through a smart phone app. Download and feel free to use it for trips to and from the airport or across the beach!
Things to Do
Clearwater Marine Aquarium
249 Windward Passage, Clearwater, FL 33767, USA

Go visit Winter the dolphin at the Clearwater Marine Aquarium!
Captain Memo's Pirate Cruise
25 Causeway Blvd, Clearwater Beach, FL 33767, USA

Go for a sunset pirate cruise!
Frenchy's Rockaway Grill
7 Rockaway St, Clearwater, FL 33767, USA

Have a grouper sandwich at Alix and Michael's fave restaurant on the beach!
Post Corner Pizza
431 S Gulfview Blvd, Clearwater, FL 33767, USA

Grab some pizza and a salad at a favorite spot of the Bigley/Shaffer family for more than 30 years!
Caladesi Island State Park, FL, United States
Drive out to Honeymoon Island in Dunedin and take a ferry ride to the pristine Caladesi Island—a spot where Alix took many field trips as a kid!
Encounters With Dolphins
25 Causeway Blvd, Clearwater, FL 33767 8864, USA

See some dolphins in the wild, or if you watch a little far out from the shoreline you can see them from the beach!
Tarpon Springs Sponge Docks
30 Dodecanese Blvd, Tarpon Springs, FL 34689, USA

Take a 30–40 minute drive north on Alt. 19 to taste some yummy greek and food and visit Alix's hometown.
FAQ
Outdoors or indoors?
The ceremony will be indoors and reception will be outdoors.
Where are you registered?
Take a look at the registry tab above!
Will food be served?
Of course! We will have a cocktail hour and dinner after the ceremony.
What if I have a dietary restriction?
Please reach out to us to let us know about your food restrictions or allergies as soon as possible.
Will there be dancing?
If you know the Bigley family, you know that there WILL be dancing.
Will transportation be provided?
UPDATE: Transportation will be provided from the ceremony location to the reception location. There will also be transportation provided after the reception for those folks who are staying on the beach.
Are the ceremony and reception locations accessible?
What should I wear?
The attire is dressy casual*.
It is a spring beach wedding so think airy fabrics and light/bright colors or anything that you feel wonderful in!

*Remember that white is for the bride, please.
Can I bring a date?
Due to venue capacity restrictions we are unable to offer plus ones.
Parking?
Most guests will likely be staying on the beach and all areas are walkable. If you are driving there is a lot outside of the church with a limited number of spaces and public parking on the beach (this is hard to find on Saturdays). There is also valet parking at the Island Way Grill.
You didn't answer my question?
Reach out to us if you have any questions at all! We can not wait to share this weekend with you all! xoxoxo